If you've visited the office recently, you might have had the chance to meet our newest team member, Ashton.  She is a certified dental assistant and will be helping Drs. Locsey and Miller with your procedures and keeping your company for the duration of your appointment. So, in an effort to help you get to know her better, Ashton has been kind enough to answer the following questions: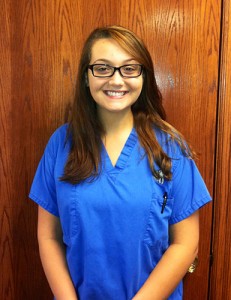 1. Name?
Ashton
2. Where are you from?
I'm a military brat but my hometown is Beaufort, SC
3. What is your favorite part about being a dental assistant?
Getting to work with patients from different walks of life – I'm very much a people person
4. What is your favorite procedure to assist with?
Any cosmetic procedure – there is so much detail and time that is put into a cosmetic restoration and I love seeing the patient's response to the end result
5. What is the most-played song on your iPod?
It's a tie between Wonderwall by Oasis and Yellow by Coldplay
6. What is one of your guilty pleasures?
I have to have Nutella whenever I eat strawberries
7. How now brown cow?
Chocolate Milk